Motorcyclists
Bikers are very welcome here.
Our establishment is the ideal base for many beautiful trips.
BIKERS' SPECIAL:
Free lockable garage and parking space (for cars and trailers too), repair area. Hotel guests may drive through the pedestrian zone as far as the hotel at all times of the day and night. We wish you a safe and enjoyable journey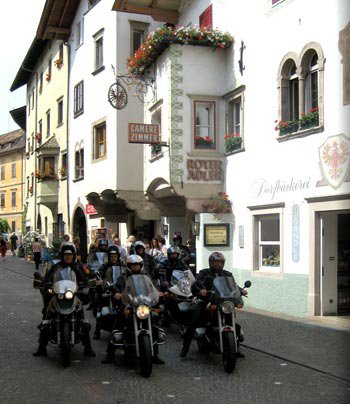 Enjoy the mountain of South Tyrol
Cycling
The region around Lake Kaltern is an ideal base for both leisurely cycle rides and tours for experienced bikers. Varied routes to wonderful viewpoints, leisurely stop-offs and exciting stretches of road will make every rider's heart beat that little bit faster.
More information on tours can be found here:
You are also welcome to stay for one night only if you wish.
There will be a safe place for you to leave your cycle.
And if your bike has bigger problems that cannot be fixed so easily, the nearby repair shop will be able to help.
With the information that is available in the hotel, and the regional cycling maps and bus and rail timetables, you are sure to be able to find an attractive excursion destination in the area.
And in the morning when you awake, a hearty cyclist's breakfast will await you.